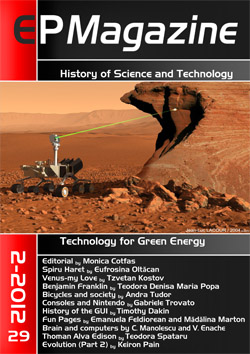 Title: History of science and technology
Year: 2012 Issue: 2 Date: 23/02/2013
PDF: download
On this page you can browse through one printed issue of EPMagazine year 2012, issue 2.
&nbsp
14-16: Benjamin Franklin
Popa Teodora Denisa Maria, Colegiul Tehnic "Miron Cristea", Subcetate, Harghita, Romania
17-19: Thomas Alva Edison
Teodora-Cristina Spătaru, Colegiul Naţional "Andrei Şaguna", Braşov, Romania
17-19 (Biology): Brain and computer
Cosmin Manolescu, Vlad Enache, C. A. Rosetti Theoretical College, Bucharest. Romania
Editorials: Editorial 2-2012
Monica Cotfas, Colegiul Tehnic "Mircea Cristea", Braşov, Romania
General: Spiru Haret
Eufrosina Oltăcan, Memeber of CRIFST—Romania Committee for History and Philosophy of Science and Technique, Bucharest, Romania
News (Astronomy): Venus, my love…!!!
Tzvetan Kostov, School Ivan Denkoglu, Sofia, Bulgaria